QUEST Knowledge Map Framework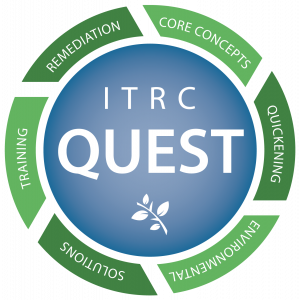 Over the years, ITRC products have helped to provide a common understanding and acceptance of environmental challenges and solutions. Many beneficial ITRC products go underutilized because newer staff are unaware of how to locate them. The ITRC Quickening Environmental Solutions and Training (QUEST) Knowledge Map incorporate existing ITRC products to help new environmental program staff gain rapid exposure to years of lessons learned and proven best practices and help them to better understand the nuances of the environmental profession.
The QUEST Knowledge Map presents a "roadmap" of where to find key environmental topic and concept information within the ITRC document library and resources. The QUEST Knowledge Map is organized by remediation topics related to environmental assessments and remediation – Site Characterization, Advanced Techniques, Conceptual Site Model (CSM) Development, Site Strategies, etc. The user-friendly accordion expanding functionality of the QUEST Knowledge Map allows a user to click on each topic to expand the list of sub-topics related to that topic and display links to published ITRC fact sheets, documents, trainings that provide overview information about each topic.